INDUSTRIAL FORKLIFT TRUCK OF PENNSYLVANIA
INDUSTRIAL FORKLIFT TRUCK OFFERS SALES, RENTALS, PARTS, SERVICING AND FINANCING ON NEW & USED FORKLIFTS IN PENNSYLVANIA
Our Pennsylvania forklift dealers are here to help you find the forklift your business needs. Our dealer network covers Philadelphia, Pittsburgh, Harrisburg, Erie, Lancaster, Allentown, Scranton, Bethlehem, West Chester, Gettysburg, Altoona, Williamsport and more. We cover the entire state of PA to help bring new and used forklift inventory to small and large business looking to expand their forklift fleet. Our forklift inventory includes units from a wide range of lift capabilities, engine types, tire types and more.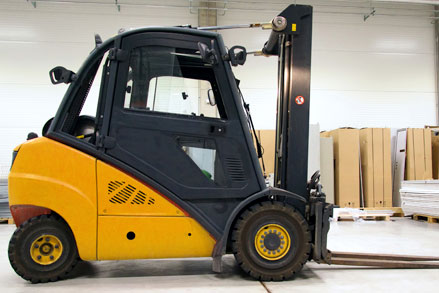 We carry cushion tire forklifts, sit down forklifts, stand behind forklifts, narrow aisle reach trucks, order pickers and other forklifts for indoor facilities and warehouses. These are typically electric and propane models as these fuel types are safe for indoor use. If you are looking for a sit down forklift, rough terrain forklift or pneumatic tire forklift, we have options that are best for outdoor use and construction sites. These forklifts have solid pneumatic tires that are perfect for uneven or rough terrain that may contain nails, screws, dirt and more. We suggest propane, diesel or gas fuel options for these machines. Our forklift dealer network also carries aerial lift equipment for indoor and outdoor use. We have 2-wheel and 4-wheel scissor lifts that can be used indoors or outdoors for lifting personnel to get to hard to reach places. If you are looking for something more heavy duty, check out our entire fleet of solid pneumatic tire boom lifts. These are sturdy machines that are great for any job.
If you are not sure what you are looking for, leave it to our forklift experts. Just give us a call, tell us about the job you are working and we can help connect you to the right equipment. Our specialist are available seven days a week to help you find the forklift inventory in Pennsylvania that you need. You can compare different forklift brands and models with our PA forklift network. Our team will provide you with multiple quotes on different machines so you can see inventory from the entire state, compare equipment specs and features and get the best pricing available.