Used Narrow Aisle Reach Truck
Are you looking to buy a used stacker? The Forklift Network has 170 dealers across North America including Canadian Provinces, and has thousands of used stackers for sale. There are two types of stackers; electric and manual. Electric stackers are able to accommodate many different applications. They also have a safety feature known as the "dead man stop" button. This will prevent your stacker from taking off without out. They are also designed to protect the operator from a falling carriage, forks, or mast. Though electric stackers are more costly, they are more suited for heavier usage, and are easier to maneuver in uneven terrains. You can think of an electric stacker as a smaller less complex version of a forklift. They are usually constructed of steel and polyurethane wheels.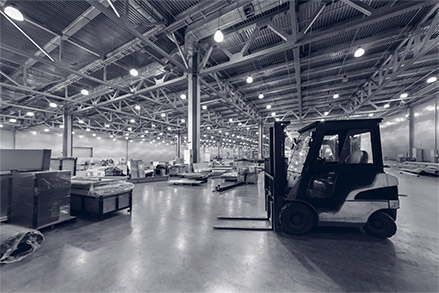 Manual stackers are designed for tight aisle space with high lift requirements. Manual stackers are also very useful when loading or unloading trucks without a dock. Manual stackers have become a popular choice for being a green eco-friendly option in today's material handling. The manual pallet stacker can lift up to 3300lbs, and up to 12 feet high. If you need to lift more than this you should consider a conventional forklift. Manual stackers are very easy to use and maneuver on a smooth concrete floor, and is a great choice for low volume use. If you will be using your stacker for more than 10 pallets per day it is better to consider an electric pallet stacker. Another option is a fork over design. This is where the forks can be lowered right above the stabilization legs. It is a cheaper and space saving solution, however you cannot pick up a closed bottom pallet from the ground. A straddle leg stacker however, allows you to pick up a load on the ground while your stabilizing legs are straddling the pallet. Be aware that this option while convenient can be more expensive to purchase. We now make it even easier to find exactly what you are looking for in your area. Instantly search online by filling out our easy request form, or call to speak with a Forklift Network associate at 877-327-7260.