Used Boom Lifts
Forklift Network supplies the largest inventory of used boom lifts for sale. Boom lifts offer the greatest reach height of aerial equipment and man lifts for sale in the United States and Canada. Unlike traditional industrial equipment (i.e. forklifts) designed to lift and carry heavy loads up to 81,000 lbs., used man lifts are only intended to carry operators and their tools. The lighter weight capacity (in comparison to their equipment counterparts) allows used boom lifts advanced maneuverability and versatility.
Construction companies and independent contractors require used boom lifts for both indoor and outdoor applications. There are two types of boom lifts for sale: articulating boom lifts and telescopic boom lifts (also called straight mast boom lifts). Although used boom lifts for sale are only designed to lift operators, their average weight capacities ranges between 500 – 1,000 lbs. Used man lifts for sale are powered by engines types such as propane, gas, diesel, and electric.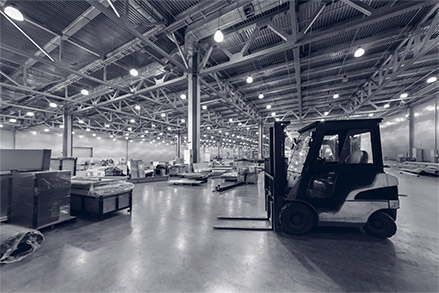 A straight mast boom lift or telescopic boom lift has a compact base and an extended arm with an operator platform at the end. The straight mast's arm extends both upward (toward the sky) and forward (when extended outward, the arm and the base form a 90° angle). Straight mast boom lifts offer a reach height greater than any other aerial platform available for industrial and commercial use. With reach heights up to 130 feet, this used boom lift can be used for almost any industrial application.
Similar to a used man lift, an articulating boom lift also has a compact base and rotating arm. A used articulating boom lift offers progressive maneuverability due to its ability to rotate 360° and tight radial chassis. The arm of this type of used man lift bends at different angles to allow the operator to reach heights around obstacles and other hindrances. An articulated boom lift has a standard platform width of 4-6 feet and can hold up to 1,000 lbs.
Forklift Network offers used boom lift for sale of all models of popular brands: Snorkel, Genie, Gradall, JLG, Lull, SkyJack, SkyTrak, Terex, and more. We have the largest inventory of used man lifts for sale across the United States, Canada, Mexico, United Kingdom, Germany and Spain.